Want Help? Call: 866-811-7727
---
Your Comprehensive Roman Shades Buying Guide from BlindsOnLine.com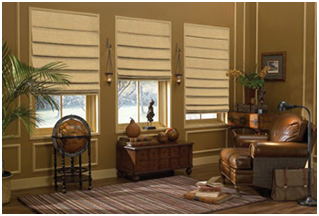 Although they may have recently been overshadowed by new age, light-blocking window blinds and other treatments, roman shades are still a hit among homeowners across the United States - and for good reason. Roman shades are designed using characteristically Roman-esque column shapes and feature a cord (there are also cordless options) that allows the shades to rise and fall, just like the empire by that same name. It is even rumored that the first roman shades were actually used during the time of the ancient Romans.
The Benefits of Roman Shades
Moreover, these window treatments add timeless beauty to the home by combining traditional drapery with a modern, yet efficient, window system. That is why at BlindsOnLine.com, we have developed a roman shades buying guide to help you see the many advantages of using roman shades to accentuate the home:
Price
One of the biggest advantages to the roman shades is that they are an extremely inexpensive investment that may even improve the overall value of your home. Some websites even go as far as to help individuals create their own roman shades. Although making your own shades may be the perfect option for broke college students, the quality almost always speaks for itself.
Style
Unlike mere drapes or blinds, roman shades have a unique style that stands the test of time. While other window treatments have gone in and out of style, roman shades have been around for decades and will be for many more.
Functionality
Because roman blinds have a fabric that covers them, choosing a durable cloth can increase the life of your shade. Depending on the type of fabric that you use, some roman shades have also been recently improved to offer homeowners light/dark filtering options. Other more traditional options are ideal for homeowners who want a soft light to touch and enter their homes.
Recyclability
As mentioned earlier, it is not too difficult to create your own roman shade. As long as you are a talented seamstress or seamster, you may be able to use and reuse your roman shades by simply updating the fabric as styles and tastes change.
Customizable Styles
In addition to endless fabric options, roman shades also come in 4 different styles: flat, looped, balloon, and dog-eared. At BlindsOnLine.com, we give contractors, designers, and homeowners the tools they need to install their own roman shades (and window treatments of all sorts).
BlindsOnLine.comís Selection of Sophisticated Roman Shades
Right now, we have the following options for roman shades:
At BlindsOnLine.com, we try to make sure that all of our products are up to date with the latest technology. Donít be fooled; despite their traditional allure, all of our roman shade fabrics have been designed with a standard light filtering lining, which will protect your new product from fading and the harmful effects of UV rays.
How to Install Roman Shades
When you create your own roman shades all you have to do is cut and hem the fabric of your choice. Unfortunately the installation process is slightly more complicated:
Step 1: Measure and make sure that your window is approximately 5/8Ē in depth and mark the locations of where you want to put the brackets

Step 2: Install said brackets
Step 3: Install the Valance
Step 4: Install a shade onto the brackets
Please note that you may need to follow slightly different instructions depending on the type of roman shade that you will be installing. The above are directions for inside mount installation.
Ö
Now that shoppers have the internet, they are not only able to receive their purchases with ease, but they can also research their products beforehand and determine just exactly what they are looking for.
Although we do not install window treatments ourselves, at BlindsOnLine.com, we provide all of the necessary blinds and shades you will need to do it yourself at an incredibly affordable price.
Armed with the above knowledge, you should feel confident to make an educated decision regarding whether roman shades are the right window treatment for your project. Shop for roman blinds online today and browse our entire BlindsOnLine.com inventory by visiting our website to find your perfect window treatment.
---