If you're looking to save some money, buying your blinds online is one easy solution. Why? Well, when you purchase your window treatments online you are not paying for the convenience of having them installed by a professional – you have to do it yourself. Fortunately there are many window treatments that require very little effort to install.
Moreover BlindsOnLine.com also has a measuring guide on their website that do-it-yourselfers can use to perfectly install any blind, shade, or skylight. To view the guide for yourself, visit https://www.blindsonline.com/pc/How-to-Measure-Install-Blinds-and-Shades-d4.htm.
To get the right measurements the first time, BlindsOnLine.com also recommends that installers measure, measure, and measure again. Always make sure you have the exact dimension prior to starting otherwise you might be left with gaps.
Furthermore, even if you don't care about the amount of energy your home is wasting from letting heat in during the summer and out during the winter, installing wood can give your home an authentic look. Crooked or ill-fitting window treatments will prevent the look of an entire room from coming into fruition. That is why it is so important to take accurate wood blind measurements.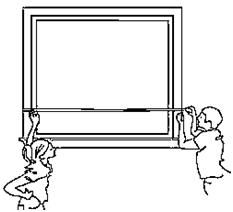 If you are unable to install the window shades on your own then you may want to enlist in the help of a professional who can do it for you.
To find out more information about measuring wood blinds, visit the BlindsOnLine.com website today. They are currently offering 10% off of all of their shipping orders over $300; simply enter the discount code "SAVEBIG." You can also receive 10% off skylight shades by using the code "SKYSEP" on check out.